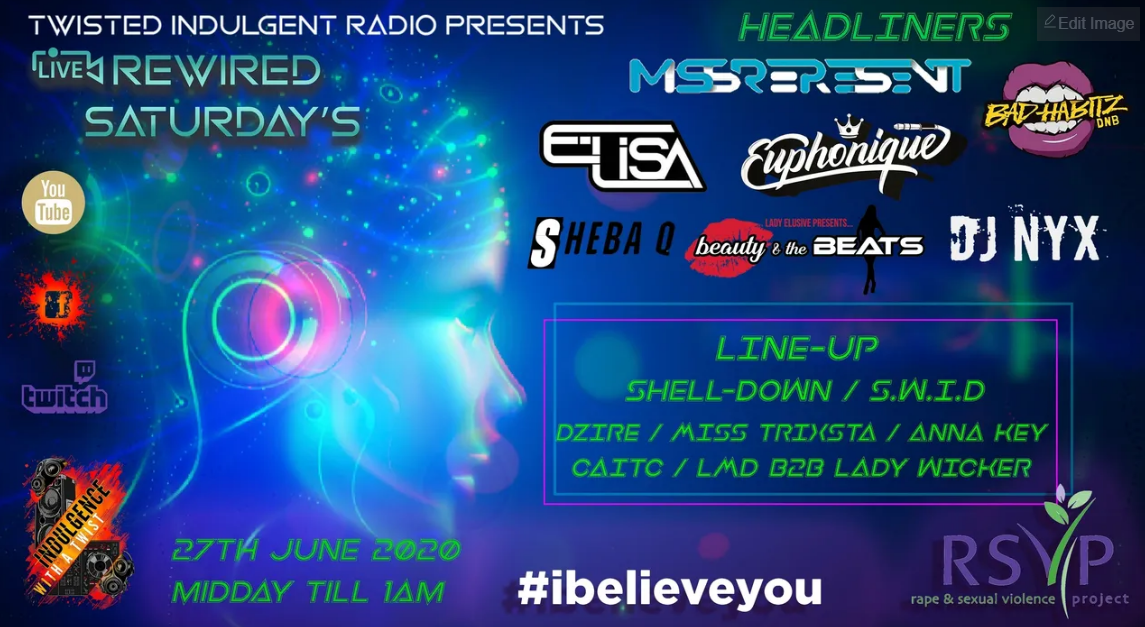 SATURDAY 27TH JUNE 2020 FROM MIDDAY TILL LATE
TWISTED INDULGENT RADIO BRINGS 'REWIRED SATURDAYS' - THIS WEEK IT IS AN ALL LADY LINE UP - RAISING MONEY FOR RSVP - THE RAPE & SEXUAL VIOLENCE PROJECT - WE WANT TO RAISE MONEY AND AWARENESS FOR THIS AMAZING CHARITY. IF YOU HAVE BEEN AFFECTED PLEASE CONTACT THEM - THERE IS HELP OUT THERE.
https://rsvporg.co.uk/
TEL: 0121 643 00301
PLEASE GIVE ALL YOU CAN TO HELP US RAISE MONEY FOR THEM
IF EVERYONE GAVE JUST £1 THAT LISTENS TO THE LIVE STREAMS OR READ THIS POST WE COULD RAISE SO MUCH MONEY FOR THIS CHARITY AND KEEP THEM RUNNING.
BIG LINE UP - SATURDAY 27TH JUNE 2020
11AM-12PM CAITC
12PM-1PM DZIRE
1PM-2PM CAITC
3PM-4PM ANNA KEY
4PM-5PM LMD B2B LADY WICKER
5PM-6PM EUPHONIQUE
6PM-7PM S.W.I.D
7PM-8PM E-LISA
8PM-9PM BAD HABITZ
9PM-10PM SHELL-DOWN
10PM-11PM MISSREPRESENT
11PM-12AM DJ NYX
12AM-1AM SHEBA Q
PLEASE DONATE
Copyright © 2018 Indulgence With A Twist & Twisted Indulgent Records - All Rights Reserved.